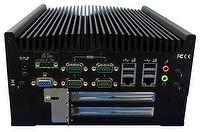 Features•Fanless and low power consumption design•Intel® 4th Gen Core ™i7-4700EQ CPU (2.4G, 6M/3M Cache Inside) and System Chipset•1 SoDIMM socket Supports Up to 8GB DDR3 RAM•2 PCIe Giga LAN•2 USB V3.0 Ports and 4 USB V2.0 Ports•Support High Definition Audio•Support 2- Isolated in and 2- Isolated out I/O•1 CFast Card socket•1 2.5" SATA HDD Space•2 RS232 and 2 RS232/422/485 ports•Support Expansion I/F with 2 PCIe Mini Card and 2 Free SlotSpecificationsCPU Board: Intel®i7-4700EQ(2.4GHz) CPU Board with 8GB DD3 RAM I/O Outlets: 1 VGA (CRT) DB15 Connector1 DP Port and 1 HD Display2 RJ45 connectors (Intel i210 PCIe Chipset)2 USB V3.0 Ports and 4 USB V2.0 Ports2 RS232 and 2 RS232/422/485 connectors2 Audio connectors (Mic-In & Earphone-Out)1 I/O connector (2 Isolated In/2 Isloated Out)1 DC connector and 1 terminal block 3-Pin connectorsExpansion I/F: 2 PCIe Mini Card for Wireless/GPRS module2 PCI or 1 PCI and 1 PCIe Slot (Option)Storage Bay: 1 2.5" SATA HDD space1 CFsat Card socketPower Req.: DC 12V~24V Input, 75VA minimumLED Indicators: 1 Power LED (Power Button), 1 HDD LED, 2 Lan LEDsDimensions (W*D*H): 210 x 252 x 120.2 mmOperating Temp.: 0℃ ~ 50℃ (32℉ ~ 122℉)Compliances: CE、FCC、RoHSAccessory: 1 AC-DC adapter with AC power cableOne pack of 2.5" SATA hard disk installation kit with fixed screws
More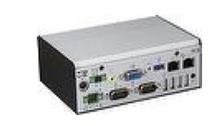 Fanless embedded industrial computer system suitable for using in factory or home automation, digital signage, transportation, motion control, and vehicle computers Low power consumption and great performance We are trusted suppliers with extensive experience in the manufacturing of industrial computer products Features • Fanless and low power consumption design • Intel N3160 Quad core CPU 1.6GHz (2MB L2 Cache) • One SoDIMM socket with 4GB DDR3L RAM (8GB max.) • Support Giga LAN (*2) • USB V2.0 Ports (*4) and USB V3.0 (*1) • 2-In and 2-Out Isolated I/O • One CFast Card socket • One SD socket (Class 6) • One 2.5" SATA HDD space • One RS232 and One RS-232/422/485 or One CAN Bus • Support Expansion I/F with PCIe Mini Card slot Specifications CPU Board: Intel Braswell N3160 1.6 ~2.24GHz (Burst) Low- power CPU board with 4GB DDR3L RAM I/O Outlets: 1 VGA(CRT) DB15 connector 2 RJ45 connectors (Realtek RTL8111F Chipset) 5 USB connectors (4 USB V2.0 *4,1 USB V3.0*1) 1 RS-232/422/485 with DB9 connector 1 RS-232/422/485/CAN with DB9 connector 1 Audio connector (Earphone-Out) 1 Digita I/O connector (terminal block 6-Pin) 1 Power connector (terminal block 2-Pin) Expansion I/F: 1 PCIe Mini Card slot for Wireless/GPRS module Storage Bay: 1 2.5" SATA HDD space 1 CFsat Card socket 1 SD socket Power Req.: DC 9~32V Input,21VA (Typical)/40VA maximum LED Indicators: 1 Power bottom LED, 1 HDD LED Dimensions (W*D*H): 54 x 104 x 145 mm Operating Temp.: -10℃ ~ 55℃ (13℉ ~ 131℉) Compliances: CE /FCC /Rohs
More
About Us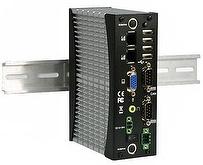 Enterprise Mission
As for the future development of FabiaTech, in addition to enlarge the R&D and management team and acquire international certificates, we demand in R&D technology core and high quality as foundation, step by step toward the top one Industrial Computer Designer and Manufacturer in Taiwan and become a world-class partner for system integrators.
With the central concept of "Flexible, Efficient Services and High Quality," our vision is to become an industrial computer designer and manufacturer who can quickly provide complete integrated solutions and build strategic alliance with customers also able to integrate the lacking technology and services from customers.
Moreover, FabiaTech actively gathers numbers of talented teams, strengthens the operation system and expands the scale of operation to create the competitive edge as well as implements sustainable operation to contribute our achievements to communities and shareholders, reaching a win-win-win situation with shareholders, customers and employees.
Environmental Policy
Excellent Quality & Professional Services Corporate Responsibility & Win-Win-Win
What FabiaTech did for the environmental protection never fall behind. We actively participate in environmental activities and implement in company's systems from internal to external supply chain as well as extend to product design, manufacturing, employee training and suppliers' requirements to make sure each link is interlocking and growing mutually.
We design and manufacture our products in accordance with the green compliance to minimize the use of hazardous substance and increase the reliability. And we tend to design the products which are easy to maintain, upgrade, re-use, dismantle and recycle also consistent with RoHS and WEEE directives.
More
New Products